Bloom Hearing visits the Pelican Waters Family Doctors on the 2nd Friday of every month to provide medical and industrial hearing assessments.
Bloom Hearing's highly experienced Clinician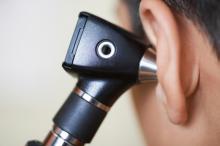 will provide you with advice on hearing loss and the latest in hearing aid technology. The company prides itself on offering clients a comfortable assessment of their hearing, along with friendly and efficient customer service.
Bloom Hearing is accredited by the Office of Hearing Service's to provide free hearing services to eligible veterans and pensioners. Many of Bloom Hearing's services are also accepted by private health funds.
If you feel your hearing is deteriorating, why not pay them a visit?  Our clinician will:
Test your hearing – this pain-free procedure will pinpoint problem areas
Assess how we can assist you – if a medical referral is necessary, we will work closely with your doctor.
Advise on suitable hearing aid/s for your needs – to some people, size does matter, to others ease of use is more important.
Fit and adjust the hearing aid to your needs – fine tuning is always required so you feel comfortable with your new hearing aid.
Appointments at the Pelican Waters Family Doctors must be arranged through Bloom Hearing themselves.  Please phone Bloom Hearing on (07) 5444 5599 to arrange an appointment.